Featured Projects & News Updates
---
Job Vacancies
We are looking for new team members, experienced or non-experienced, we may have a role for you in the following areas;
Network cabling installation and testing
Fibre-optic cabling, splicing and testing
CCTV installation, maintenance (all IP network based)
If you have practical skills, are neat and tidy in your work, are comfortable working at height and look to thrive in a rewarding and dynamic work environment then please get in touch with us at contact@morecomms.co.uk
Recent projects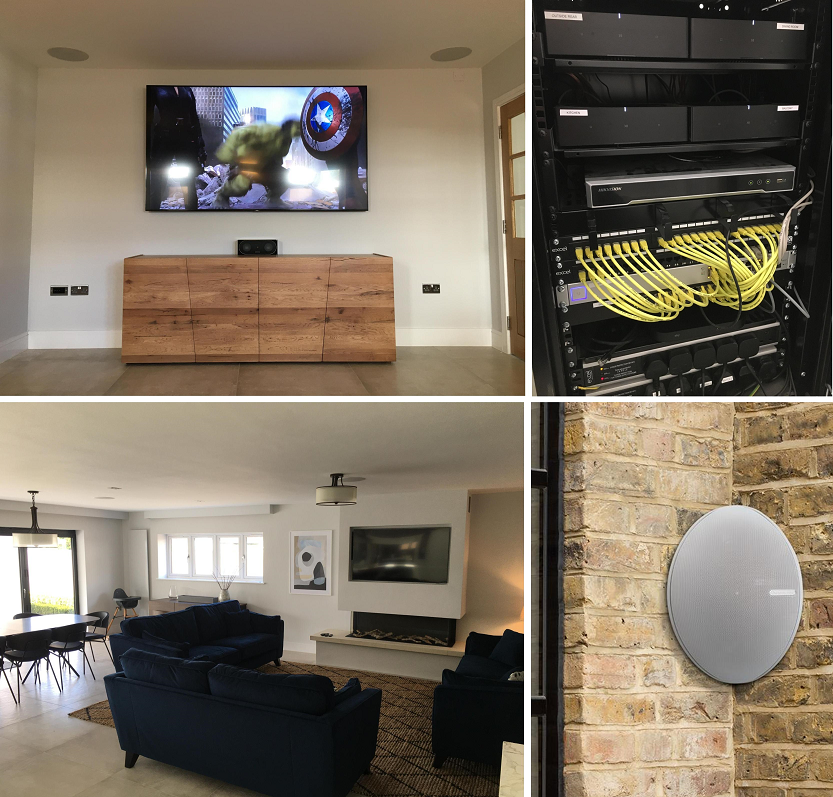 Completion of work at a clients holiday home on the beautiful Norfolk coast, we designed the 5 zone audios system, including a media room with surround sound, whole house wi-fi, hardwired network and IP CCTV system which allows the owners to view the house remotely via an App, and receive realtime alerts if any movement is detected on the property.
---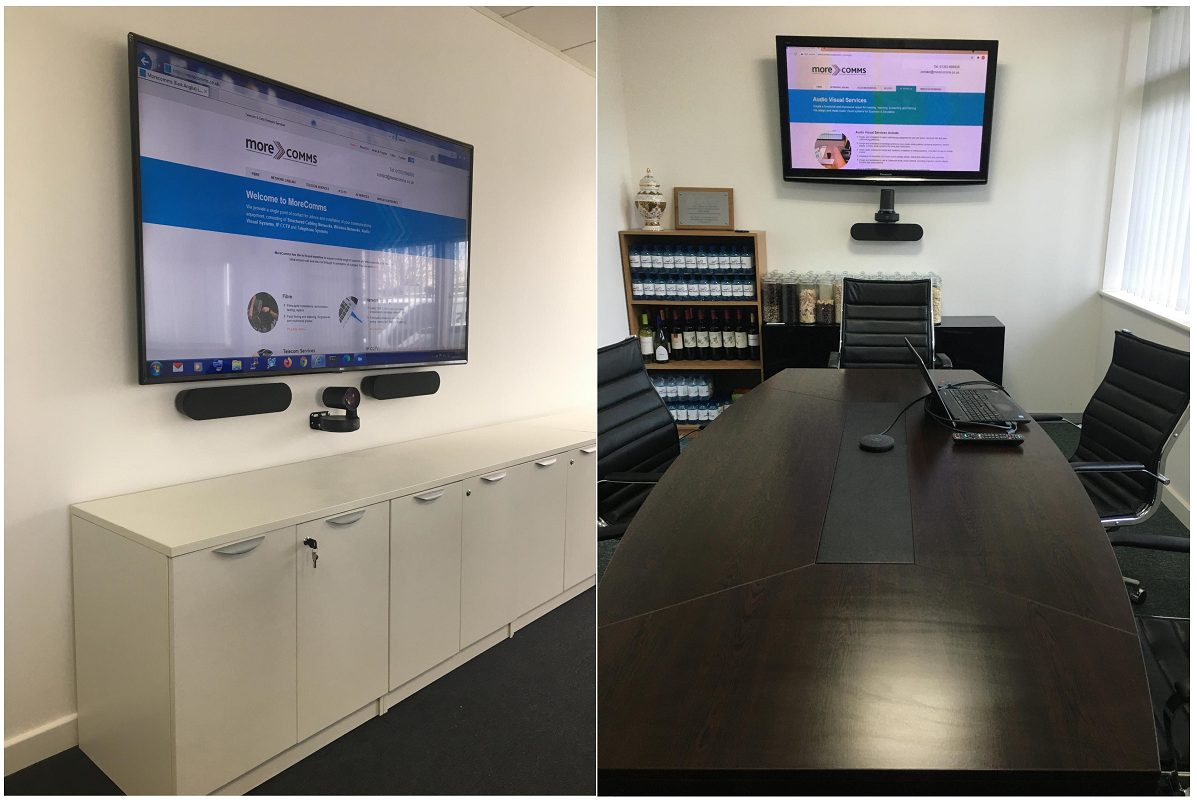 Installation of Logitech Rally Plus video conferencing equipment for clients board room, this 4K system is user friendly, has motorized PTZ camera with 5x optical zoom, AI based camera and audio technology. Once installed the system is simple to connect to with plug and play support for any PC, Mac or Chromebox, and can be connected to existing TV monitors if required.
---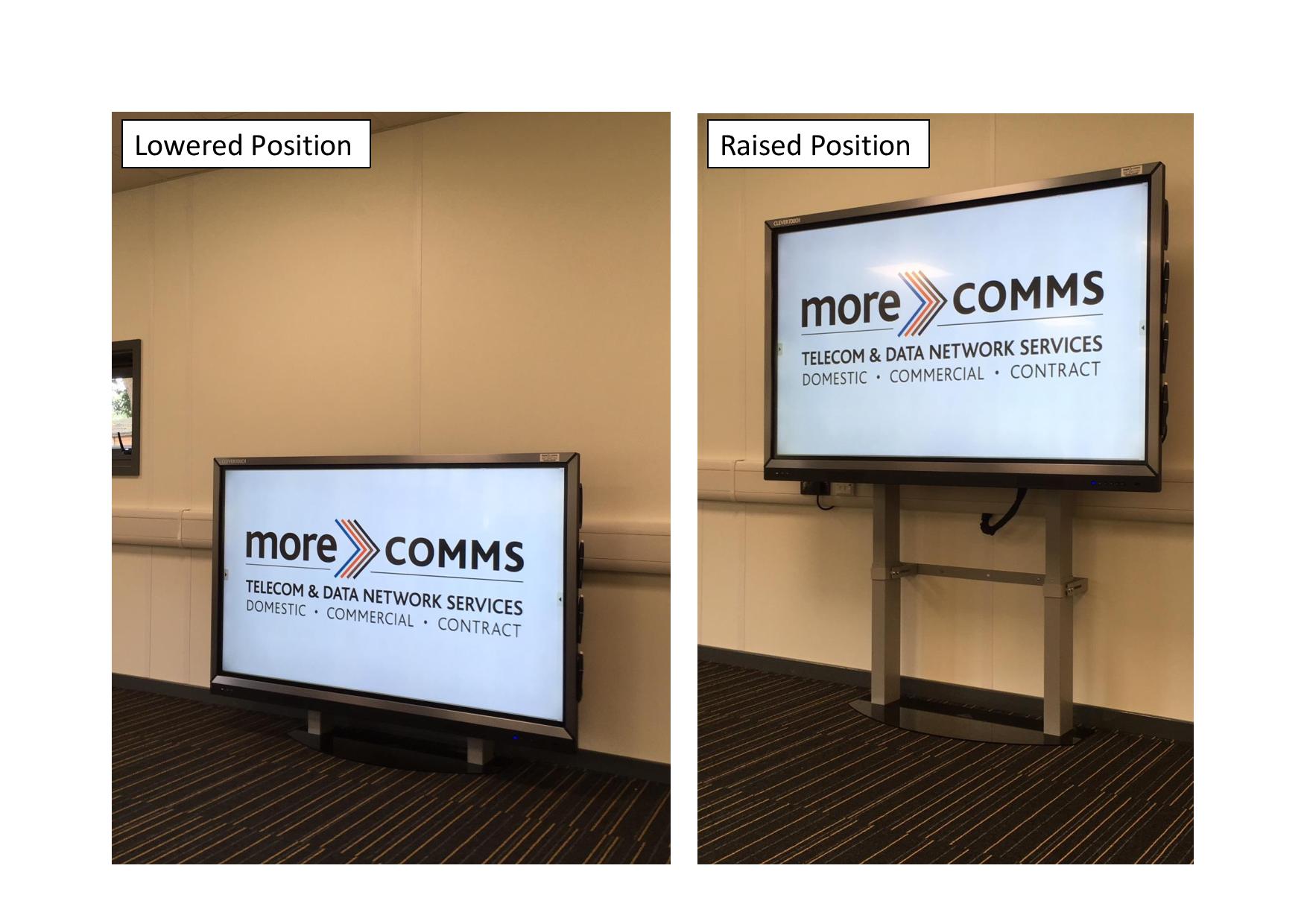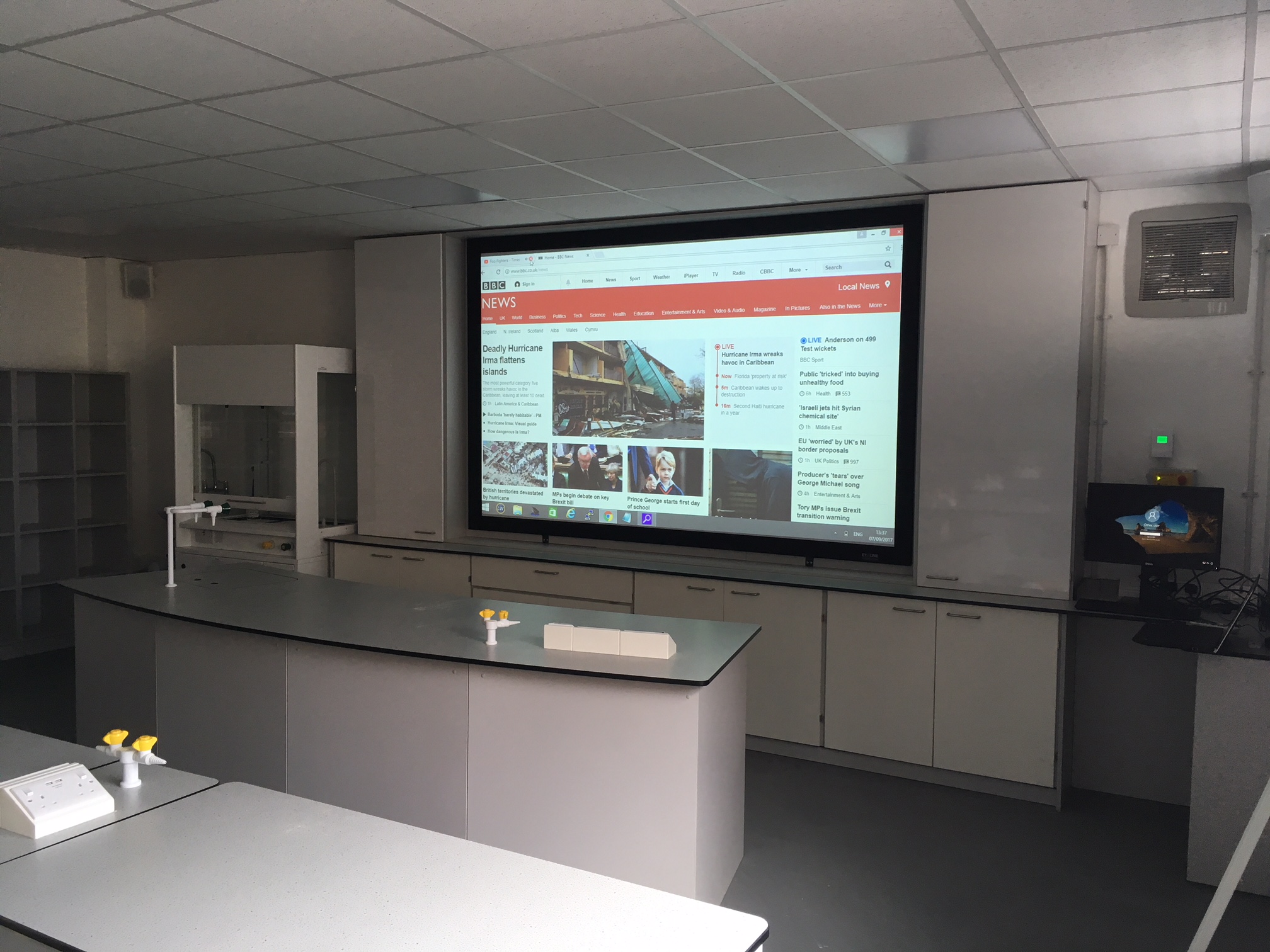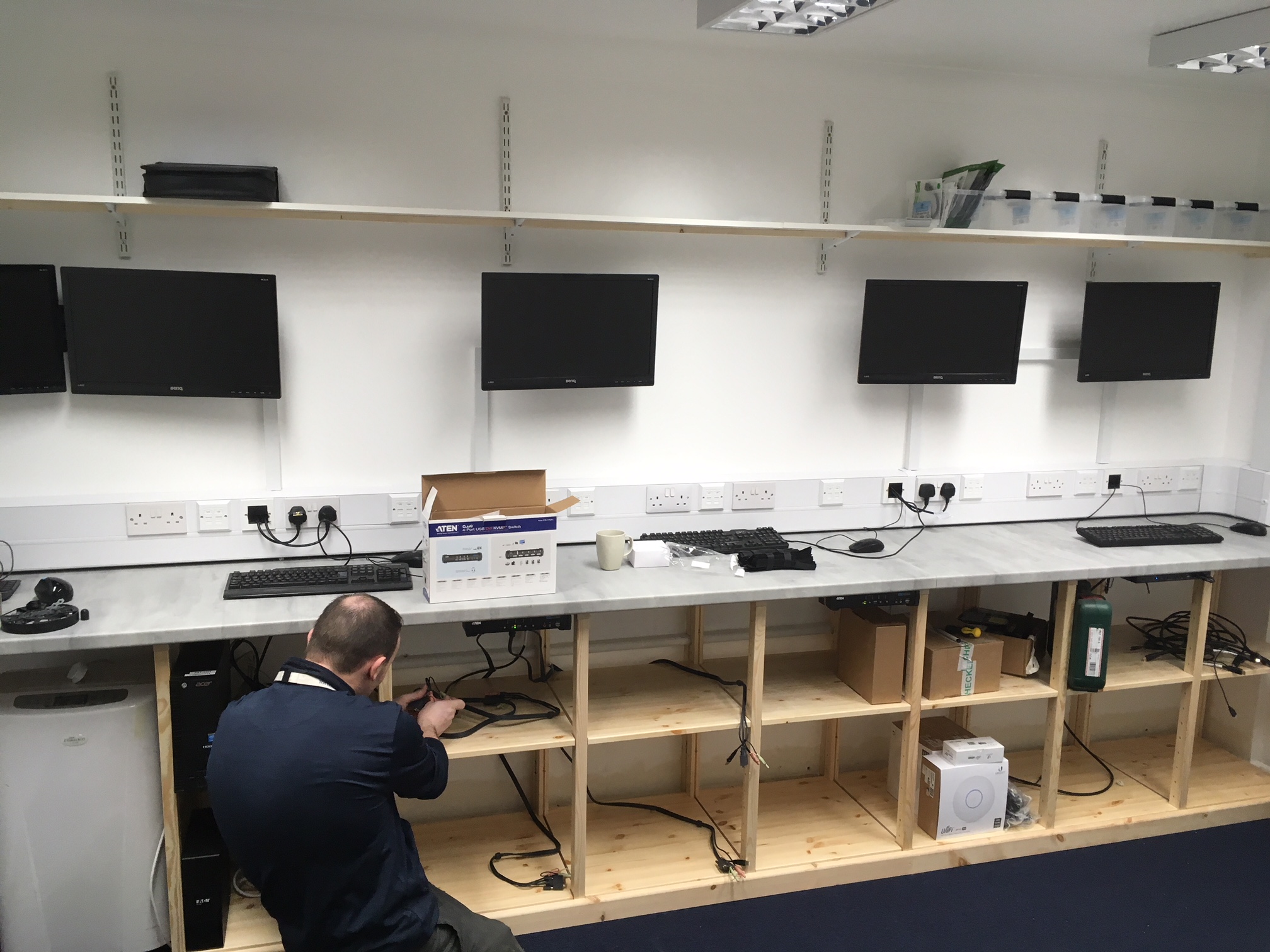 We have installed HikVision IP CCTV systems for a wide range of customers and sites, these include a large truck dealership in the eastern counties, we have installed systems in 7 depots to date, Primary Schools, residential homes, remote locations using 4G, farms and manufacturing companies. Video conferencing systems for businesses, wirelessly linking devices to large 4K display screens, camera and microphones. Whole home zoned audio systems in new build homes, fitting descreet ceiling mounted speakers, these are controlled via an easy to use app where you can stream radio, music, podcasts or link to your own turntable, CD player or stored music server.
---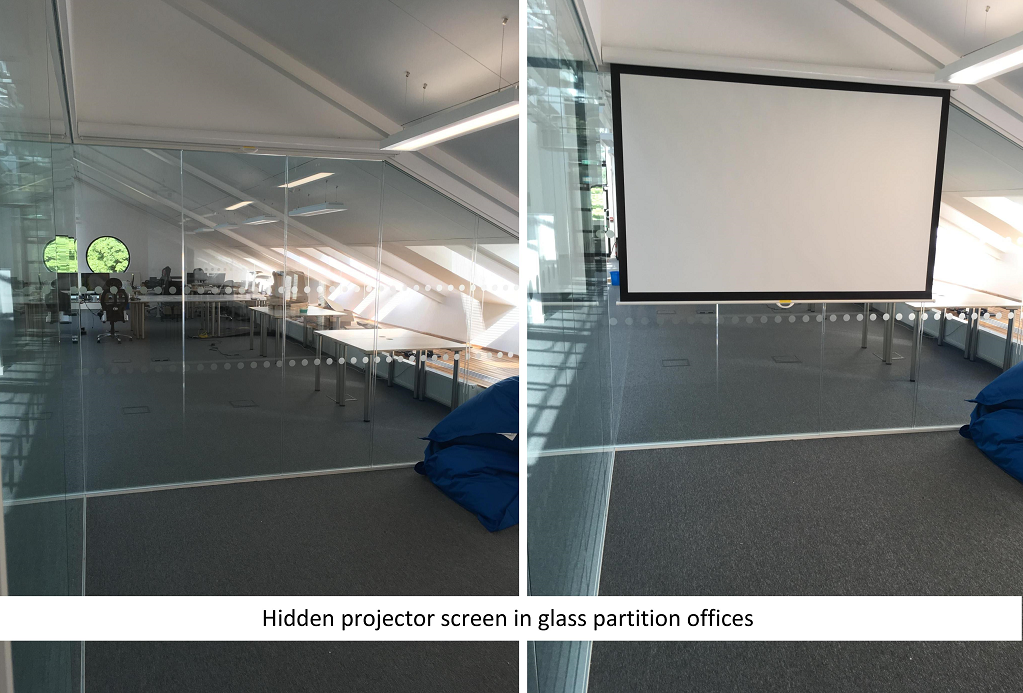 Installation of slim aluminium cased projector screens for a clients 4 glazed meeting rooms, the requirement for this project was to have the screens installed so they blend in with the framing when retracted, LED projectors were installed on the opposing walls with connections to the meeting tables in the centre of the rooms.
---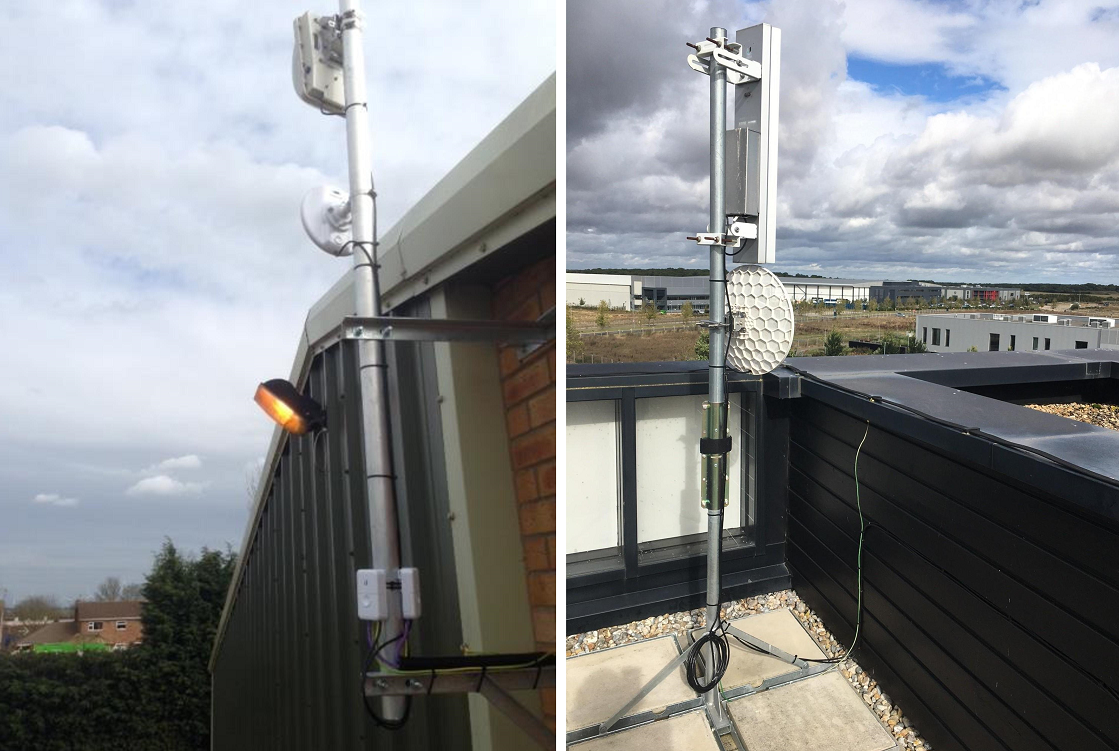 High level roof work installing 60Ghz point to point wireless links and point to multipoint sectors for various sites.
---
May update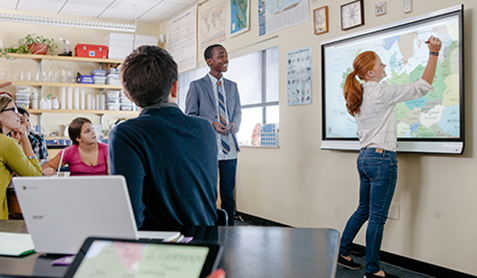 Back at the Norris Museum in St Ives this month, starting to install the network cabinet and Cat6 wall plates, testing and commissioning some areas. Installation of a wireless network for a large farmhouse in Stretham who had been experiencing poor Wi-Fi signal due to the size of the house and thickness of walls, we installed remote access points linked to a controller unit in the loft which gave them full signal throughout the house. Other projects included the installation of new shielded Cat6 cables and outlets in the production area of a cable manufacturer to the Oil and Gas industry, as well as the installation of a site wide wireless network for 2 primary schools in Cambridgeshire over the half term break, both site experiencing a seamless handover from the old 802.11g to new 802.11ac wireless network.
---
April update
A busy month, removing projectors and Smartboards from a primary school in Cambridge and replacing with 65" Smartboard touch screens, replacing AV equipment in a school hall in Peterborough, installing new Cat6 cabling into floor boxes in a Sixth Form for a private school in Cambridge, in readiness for exams in the summer. We also extended the wireless network of a large wedding venue in Ely to cover recently added bedrooms and external coverage to the event marquee. We had some weekend work also, a customer in Rutland had a large network cabinet in their main office, with all of the equipment installed over the years it had become noisy and basically in the way, so over the weekend we stripped it down, documented all connections, re-routed the cables up to a first floor print room, re-connected all cables and equipment, and tested, everything went well with no reported faults on the Monday morning.
---
March update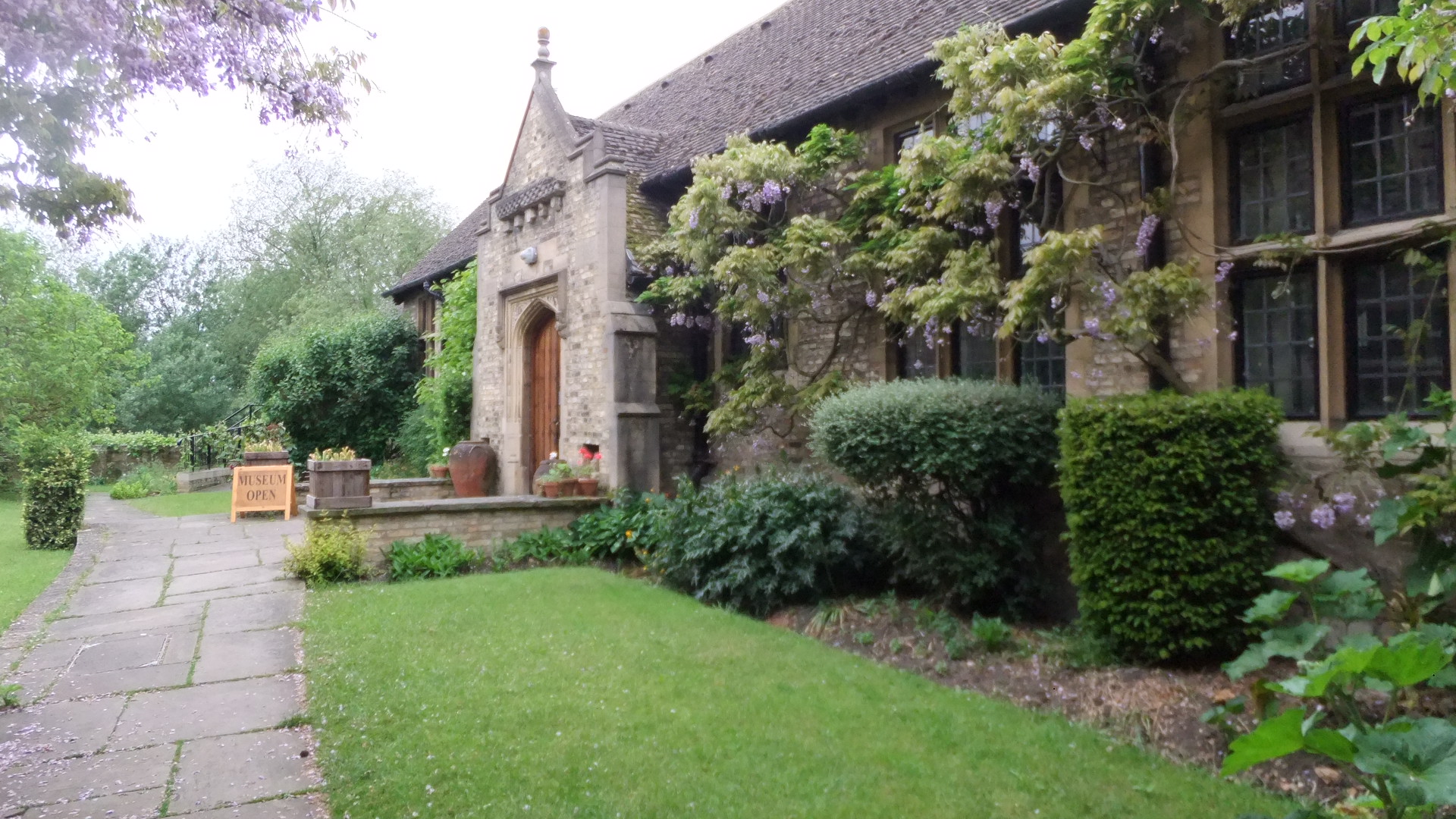 Some removal work this month, with a customer moving premises from Harlow to Cambridge, we travelled to the old offices to remove projectors and interactive boards from their old board rooms, transported the equipment up to the new offices and re-installed into the new board rooms. Other projects included the installation of a new Panasonic NS700 Telephone system for an accountants in Sawston, re-routing of fibre-optic and voice cables for a builders new offices in Kings Lynn, and we started work on installing the Cat6 network cabling for the refurbished Norris Museum in St Ives, a project which will be spread out over a few months.
---
February update
We often receive calls from customers who have legacy cable which has been added too over the years and now does not perform to the growing needs of their business, in some cases the network cabinet has become too small, and in others the cabinet is located in an office area and with all of the equipment installed noise is becoming an issue. One of our customers had both of these issues and so we re-cabled their offices and production area with a new Cat6 network, working throughout the week around their staff in such a way as to cause minimal disruption, the customer supplied an acoustic server cabinet and we arranged the change over from old to new network late on a Friday afternoon. A new open plan office are was also created as part of the project, with us installing perimeter dado trunking, power and Cat6 outlets, tested and certified with a 25 year product warranty.
---
January update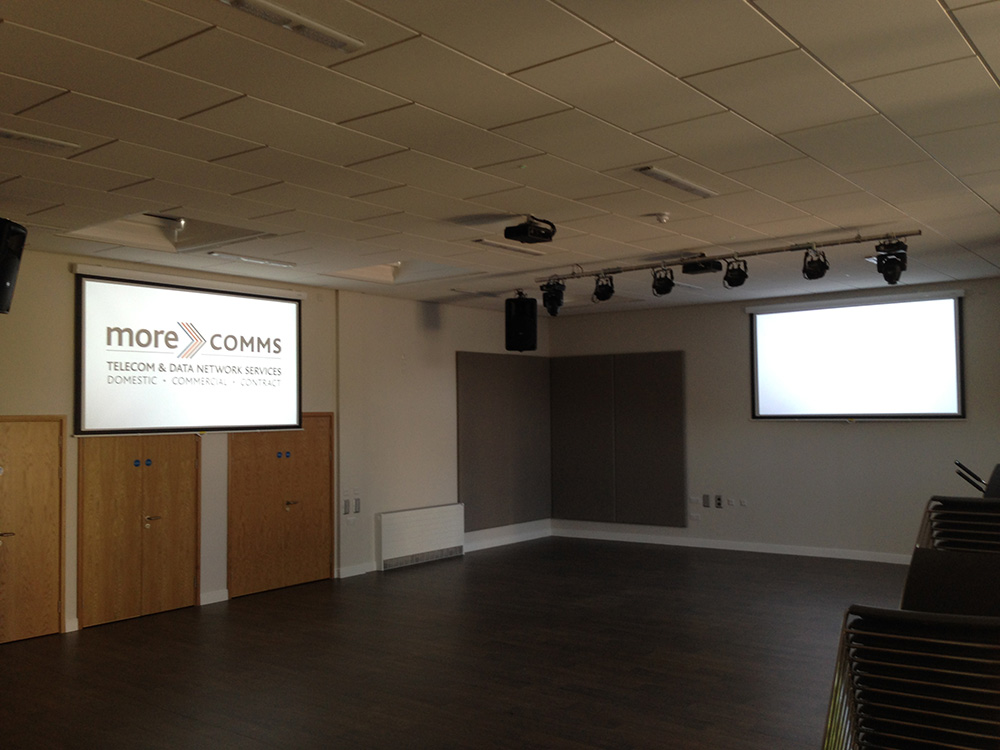 After a festive break we returned to work refreshed and eager to start the New Year ahead, completing the wireless link at the recently completed shopping channel project in Peterborough. Other projects included the installation of site wide wireless network and hall audio visual system for Primary School in Cambridge, installing 65" touch screen Smartboards for a school in Peterborough and upgrading the network cabling for the offices of a toy distributor in Soham.
---
December update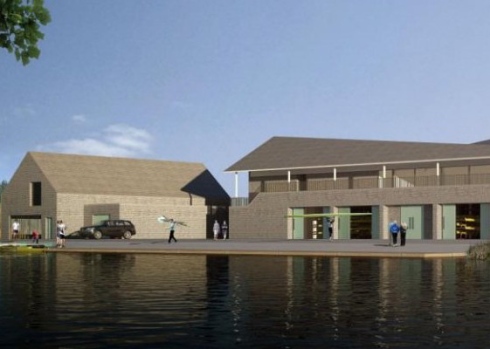 This month saw us complete the installation at the new £4.9M Cambridge Colleges Boathouse facility in Ely, the building is the new centre of excellence for Cambridge University Rowing, we installed all of the IT network infrastructure, a hardwired and wireless internet network and connected the building to the satellite broadband service. Another exciting project for us was cabling for the new offices and studios for a TV shopping channel, converting a two storey existing office space to accomodate the 12 Studio sets, production and audio rooms, call centre, meeting rooms and general offices. We installed fibre optic and copper cabling throughout the building linking 2 existing and 1 new comms rooms, re-arranged existing floorbox outlets, tested the whole building infrastructure and will be installing a wireless link and cabling out to the new warehouse on the opposite side of the road in early 2017.
---
November update
We had the pleasure of upgrading the network cabling infrastructure for a legendry company in the motorsport world, ARCH Motors who have been manufacturing chassis and racing components since the 1960's, we also continued our installation of the network cabling for the new Cambridge Colleges Boathouse facility on the river bank at Ely, and since recently becoming a supplier for the NHS Trust we completed a few projects for their IT department.
---
October update
A local primary school needed their outside wood clad classroom to have wireless access to the main school and internet, we installed a Unifi wireless link giving them full wireless coverage. Another customer had contacted us to tidy up their server room, and repair faulty cabling left by previous installers, we documented and identified the 50+ cables, carried out a consolidation point and installed a new server cabinet further along in the room, all of the equipment was re-instated, labelled and tested, all carried out over a weekend to minimise disruption to the business. Other projects were network cabling for the University of Cambridge, installing a new electric display screen and projector for St Thomas Moore school, and for the Busy Fingers pre-school.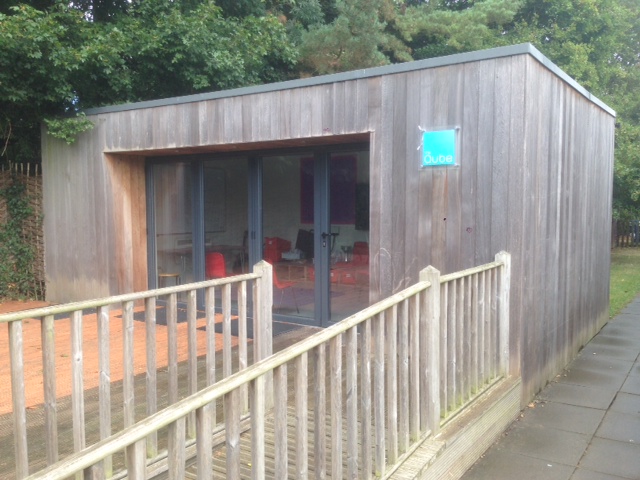 ---
September update
This month has seen us audit, clean and re-patch a data cabinet for a school in Wisbech, improving their network connections after some re-patching of multiple switches, also the installation of Cat6 network cabling for Financial Advisors in the centre of Cambridge, allowing them to expand their team, and a full network cabling installation for a grill manufacturers in Huntingdon, in preparation for their new VOIP telephone system.
---
August update
Continuing work throughout the summer holidays we installed some 65" touch screens in a Primary School in Whittlesey, installed a full site 802.11ac wireless network, upgraded network switches to suit and installed an AV system in the main hall for a Primary School in East Cambridgeshire. We installed 8 x 75" LED Ultra HD screens throughout classrooms in a private school in Cambridge, as well as various network cabling and AV projects throughout their sites.
---
July update
A trip to Birmingham this month to install network cabling and mount a TV and video conferencing equipment for Emmaus, also cabling a new extension for Murrow Primary School. Another project was the installation of a point to point wireless link for a customer's home in North Cambridge, linking the main house to his garage and outside BBQ area, allowing them to stream and connect the SONOS system. The start of the school summer holidays saw us in Chatteris relocating the lighting and AV equipment in a Primary School hall to suit a new layout, and the start of a series of installations of data points for TV screens throughout Truck Service Depots in East Anglia.
---
June update
A nice project this month was the installation of network cabling for a DT department in Cambridge, installing the perimeter dado trunking, and network points in preparation for the new work benching and PC's. We supplied and extended the wireless network for a local social club in Witchford and installed Cat6 cabling for the maintenance department of a private school in Cambridge.
---
May update
We supplied and installed an acoustic server cabinet for a customer in Peterborough, moving their network switches and server in the sound proof unit has reduced the noise in the office. We also completed the last Cat6 site installation for the Red Balloon Learner Centres, this one in Harrow.
---
April update
This month saw us installing new wireless networks for large primary schools in Ely and Whittlesey, upgrading the old struggling wireless network equipment and switches in the comms cabinets in preparation for Ipads and Tablets. We carried out another Cat6 network cabling installation for Red Balloon at their learner centre in Norwich, continuing their upgrade program for all sites. One of our customers contacted us frustrated with the slow speed of his broadband and wireless service in a semi-rural location, being told by his current IT company that this was the best he could get, after some investigation, and the installation of new wireless network equipment and upgrading his service we moved him from 5Mbps to 36Mbps, with full coverage throughout his large property. We designed and installed an AV system for a school hall in Wisbech, consisting of projector, electric drop down projection screen, PA system with wall mounted speakers, easy to use mixer and wireless microphone system, perfect for presentations, assemblies, plays and discos!
---
March update
We have just come to the end of a full system installation at the Olive Grove Nurseries in Oundle, comprising of 3 x 50" Screens with a digital media player showing their own custom promotional video throughout the seating areas, a site wide wireless network, a telephone system with greeting message to guide customers to the relevant departments and the cabling to link it all together. Another interesting project this month have been the re-location of a server cabinet for an estate agent in St Neots, moving it from an imposing location in their public area to a secure cupboard, also installing perimeter trunking and cable management to tidy any trailing leads from the walls to the desks, leaving the office looking clutter free.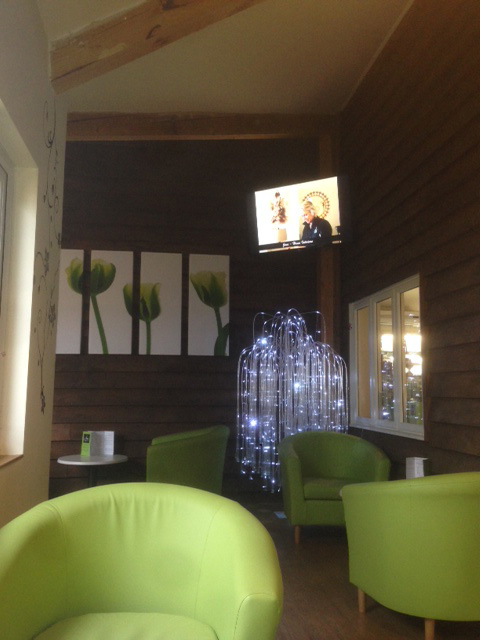 ---
February update
More warehouse and high level work this month, our customer supply bespoke uniforms for prestigious schools and have expanded their factory in Mansfield, requiring their existing small wall mounted data cabinet to be upgraded to a large full height server cabinet, a fibre optic link to the new warehouse, new sub cabinet in the new warehouse and network cabling to new office desk positions, as well as new network cabling to machines and offices in the existing factory. This month also saw us replacing an overhead fibre optic cable that had been pulled down in St Ives, and the installation of a Projector and Screen in a high ceiling hall for a Church in Ely.
---
January update
During the school Christmas break we installed a new site wireless system for a Primary School in Little Downham, also upgrading their entire network switches to get the maximum out of their new system and eliminate bottlenecks. We installed a series of fibre optic and Cat6 cabling links for an automotive paint factory in Biggleswade, upgrading existing network cabling, installing new network cabinet and using height access machines to install fibre optic link cables throughout the factory in preparation for network equipment upgrades by their IT Team.
---
December update
Most of December has been dedicated to continue the installation at the Sheene Mill, working around the restaurants busy schedule.
---
November update
This month has seen us installing network cabling in a new extension for a school in Loughton, Essex, installing more projectors in schools, including a new hall system for a school in Murrow. We set-up network cabling and a wireless network for an Architects practice who recently moved to their new offices in Chittering. This month saw us start a challenging project installing 21st century cabling into the Sheene Mill, a 16th century building in Melbourn, the owners wanted all old and unused cabling to be removed and new network and CCTV cabling installed as discreetly as possible, back to a central secure control room.
---
October update
A customer was coming to the end of building a prestigious house in Melbourn and wanted reliable wireless coverage throughout all rooms, we surveyed the house and installed 5 Unifi wireless access point throughout, our customer can now walk throughout his home and have full signal in each room, we also terminated the 48 Cat6 cables, installed in a new cabinet in the loft and configured the router and network switches so each wall port is live ready for use. School's often ask us to audit their existing AV equipment to recommend what condition devices are in so they can budget for upgrading equipment, following an audit of a school in Chatteris we repaired audio systems in classrooms that did not work, upgraded projectors, re-located projectors to fit the Smartboard screens properly, supplied interactive pens and erasers that had been lost.
---
September update
This month we completed the installation of 150 Cat6 network points at an academy in Harlow, carried out the installation of Cat5e cabling for a refurbished student accommodation block for one of the Cambridge Colleges. We installed network cabling and a new Panasonic telephone system for a training and Haulage company in Wisbech, as well as a secure wireless network for their staff and guests.
---
August update
With the school summer holidays now in full swing our diary has been fully booked, from installing full site wireless 802.11ac network systems for local schools, repairing damaged fibre-optic cables, a series of Projectors for a private school in Cambridge. A challenging project was to move a data network cabinet from one building to another during a refurbishment, 96 network cables had to be documented, disconnected and re-routed through high level metal trunking to the new location, re-terminated and fully tested once completed. Following the heavy downpour in Cambridge in the middle of the month we had an urgent call out to provide network cabling for a Hospital which had been flooded, and needed offices moving to 10 temporary Portakabins, this involved installing a new fibre-optic link to the server room, providing a network cabinet and installing 100+ network points throughout the cabins, out of hours over 3 days.
---
July update
This month we have started a contract to install 150 Cat6 data network points for a school academy in Harlow, we also completed the installation of a Cat6 network for the Red Balloon learner centre in Cambridge, another interesting project is the testing and terminating of data and fibre-optic wiring for a new shopping channel based in Peterborough. With the school holidays now in full swing we are also installing 12 display screens for a private school in Cambridge and 4 x 65" touch screens for a school in Whittlesey.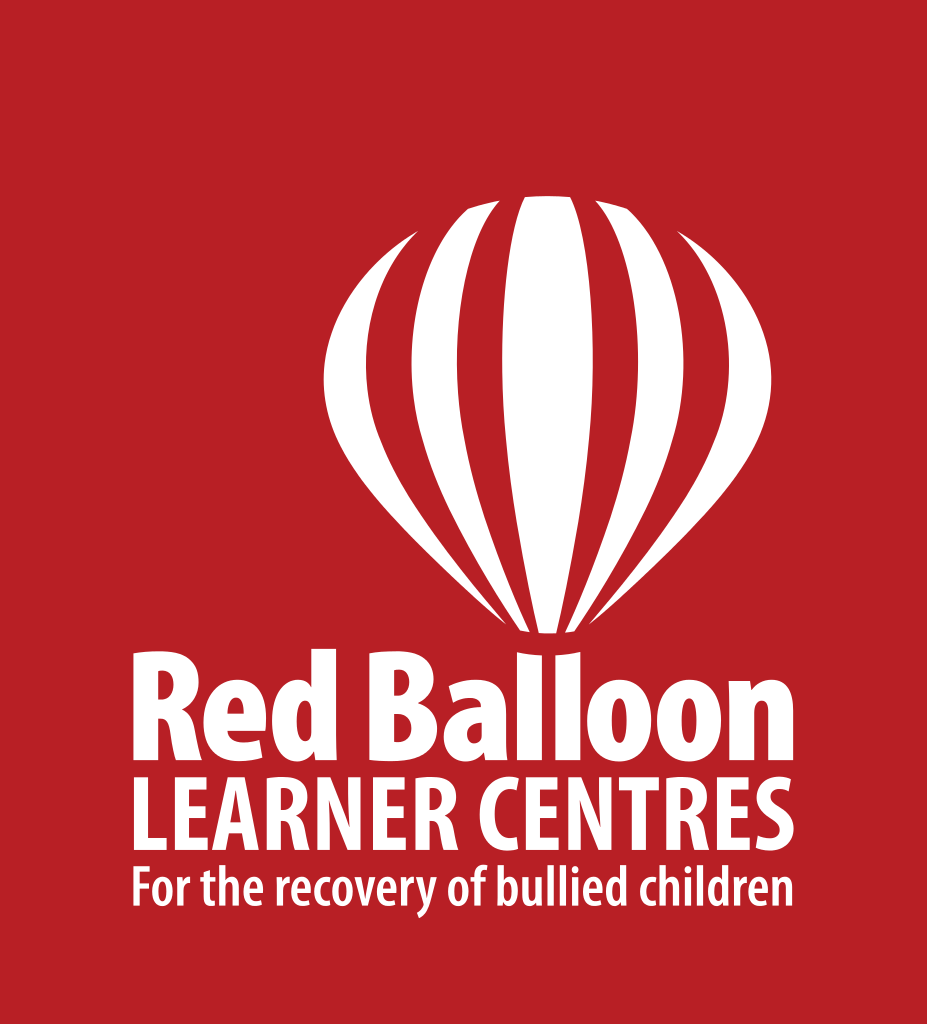 ---
June update
June has seen a variety of projects, the installation of a telephone system for a local estate agents, the repair and re-installation of telephone wiring for a local company after major fire damage, supply and installation of projector upgrades for a local primary school, and the installation of 11 display screens and 26 Projectors for a private school site in Cambridge.
---
May update
Projects include the installation of a small telephone system for a local Farm, a new data cabling installation for a roofing supplier in Essex, in their new warehouse and offices. We also installed a Cat6 data network for the Red Balloon Learner Centre in Reading, this was a three storey townhouse , we provided a robust and long lasting network with 20 year manufacturer backed warranty, later in the year we will be wiring their Cambridge site.
---
April update
This month we have supplied and installed a dual wireless data link for precision engineering company in March. Connecting their existing factory to new premises, reliable 180Mbps over 150 Mtrs. Other projects include the installation of data wiring and telephone system for Fen Feeds new offices in Bourn and upgrading of wall mounted data cabinet in small cupboard to floor standing movable server cabinet for growing customer in Peterborough.
---
March update
Installation of data network cabling and telephone system for a fast growing IT company in Chatteris, carrying out a complete re-wire of their new warehouse and office area. Installation of server cabinet and Panasonic NS700 IP telephone system, with DECT cordless phones giving full site coverage.
---
February update
Continued progress on site with the data and fibre optic wiring installation at Nuffield Health hospital, Cambridge.
---
January update
Installation of the structured cabling network continues for our team at the new Nuffield Health hospital in Cambridge.
---
December update
Well we have had a great end to this year, with confirmation that we have been successful in securing a grant from grants4growth, giving us 28% funding towards upgrading our data network and fibre optic certification test equipment. More information about this scheme can be found at www.grants4growth.org.uk . Other interesting projects have included the supply and installation of a 70" LED touchscreen display for a local school, and various office moves and cabling for customers before their Christmas break.
---
November update
Great news for MoreComms this month, we have secured and started work on the contract to install the telephone and data systems for a new Private Hospital in Cambridge, this is a project of over 1000 outlets and is due for completion in April 2015. Other projects have included a site wide wireless network installation for a Fenland Primary School, in preparation for student tablets, and Hall A/V system setup for another Cambridgeshire Primary School.
---
October projects
A lot of new contracts on the go this month, we have had a wide range of projects from re-routing a total of 4km of fibre optic and voice cabling for an international Chemical Company to installing and improving wireless network and cabling for domestic customers. We provided a quick response and installation turnaround to a Garage and MOT Test Centre after their old telephone system had failed, and more data cabling work at student accommodation for a Cambridge College.
---
Projects completed in September
This month amongst other projects saw us completing the installation of 170 data outlets for refurbished student accommodation at a large Cambridge College. We also installed a site wide wireless network for a Cambridgeshire Academy School, allowing their staff and students to use laptops and tablets throughout the school.
---
MoreComms at Ely Cathedral Celebration of Business Exhibition 17th - 21st May 2014
We joined over 100 businesses, large and small, from all sectors displaying what they do for 5 days within the setting of the magnificent Ely Cathedral.
Click here for more details of the Ely Cathedral Business Group
---
Grants and Free Advice Available to SME's in Cambridgeshire
We have just been doing some research on grants available for businesses in our area and have come across a scheme providing Government/EU grants for up to 40% on digital products and services and vouchers of up to £3000 for better broadband connections, it is on a first come first served basis, we have applied, let us know if you would like any further information.
Get in touch to find out more details.
---
Free Calls Offer - Paying for calls is so last year!
• Free calls to 01, 02 and 03 numbers
• Available on IPDC and Horizon
How it works? Calls made to 01, 02 and 03 numbers are now free on IP voice services IPDC and Horizon. As calls to these numbers generally make up a significant share of call volumes it means you benefit from cost savings and a more predictable bill. In addition to free calls we'll also protect you from phone system hacking with our fraud protection service, Call Guard.
Get in touch to find out more details.
---
We are now Channel Partners with Gamma Business Communications
This partnership enables us to provide a wide range of voice, data and mobile products including fixed telephony, IP telephony, broadband, data connections and mobile services from one of the UK's leading suppliers. By dealing direct with their network we can react fast to our customers needs, offer simple billing and 24 x 7 industry leading customer service, from highly trained and responsive UK-based teams.
Get in touch to find out more.
---
Our customer saved 20% on their phone bill
We have saved a Building Contractor over £300 per year on their phone bills, all they had to do was send us their current bill for a free comparison quote and we handled the transfer paperwork.
Get in touch and find out how we can help to reduce your costs.
---
Telecom Maintenance support to DK Virtual PA Services
We are pleased to provide Telecom Maintenance support to DK Virtual PA Services. Kim, Debbie and the team provide telephone answering, virtual PA, sales and marketing services to companies across the UK and rely on their communications systems. With our easy monthly payment plan and quick response times DK Virtual have the peace of mind that their business is covered and any problems can be dealt with quickly.
Contact us to discuss our support and maintenance services.
Latest Updates